March 17, 2021
Three Reasons Why You Need To Incorporate BOSS Logics Live Into Your Business Plan
Are you stuck in a sales rut? Look no further — BOSS Logics Live is the key to changing the game and improving customer satisfaction while increasing your sales. Here are the top three reasons why you need to incorporate BOSS Logics Live into your business plan.
BOSS Logics Live helps you put an emphasis on the customer and their priorities. Gone are the days of cold-calling and not having a set time to talk business. With BOSS Logics Live, all of your sales meetings are scheduled in advance, so you're sure to have your customer's full attention. Everyone appreciates a time saver, right? Create a Virtual Assortment of pieces that you know your customer will be interested in prior to your meeting, and then present them in a branded virtual showroom once the appointment has started. You'll also see a contact card on your screen, reminding you of valuable customer information like purchase history, past interactions, and more. You're bound to impress your customer with all that you remember about them!

In today's world, staying at home is the new normal. That's why we're bringing in-person meetings to the comfort of your home. BOSS Logics Live's premium video conferencing capabilities allow you to invite up to six guests to join your appointment, from anywhere in the world. You'll be able to see your video chat stream at the top of your screen throughout the meeting, (you can even enable full-screen mode for a more realistic feel) and the lower portion of the screen will showcase your virtual showroom of predetermined product assortments for your customer to browse, featuring 360 degree product views and high-resolution images. Want to show your customer a lookbook or a video featuring your products? Not a problem. You can easily switch between the product gallery and viewing 1080p HD video presentations and documents.
Closing sales with Boss Logics Live has never been easier. As customers see items of interest, they can add them to their virtual tray and see their picks throughout the appointment, just as you would in-person. Vendors can create proposals or purchase orders and email them to their customers at the end of appointments, and retailers can tie into their existing POS system or simply use BOSS Logics Live's integrated checkout functionality.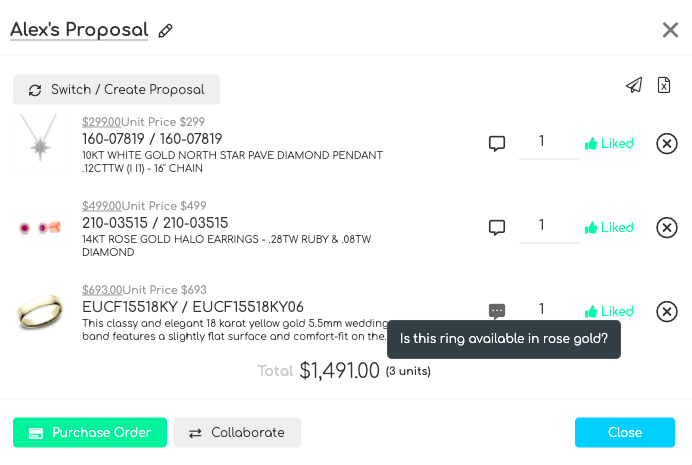 Are you convinced yet? Click here to learn more.
" alt="Five Ways To Save Time At Work">
" alt="10 Things You Didn't Know About BOSS Logics">
" alt="Critical Thinking Skills">